What?! I promised myself I wouldn't be one of those moms that was always saying where did the time go? But I totally get why moms are always saying that now, because seriously- how is our little guy already 6 months old? I won't cry, I won't cry, I won't cry!
These past 6 months have been the most wonderful 6 months of my entire life. Life with Leland is more than I could have every hoped for. I knew being a mom would be hard, but the sleepless nights and crazy hormones made it a tougher transition than I expected, but through it all Leland has been the brightest light in our home. He is such a good baby and happiness is just his natural demeanor. The kid loves to be passed from one person to the next, he finds his cousins to be absolutely hilarious, and will flash a smile at just about anyone who says hi to him. If I had to pick one word to describe Leland it would be joy and his joy is just contagious.
Leland has his ups and downs with sleep, and I will be completely honest we haven't really forced a schedule on him so I take full responsibility for his sporadic sleep habits. We are all about napping on the go, staying up later on weekends and rocking our little guy to sleep- I know all bad habits, but that's just where we are at over here! Right now Leland is sleeping like a champ so I will count my blessings and continue to say a prayer each night that we make it to the morning without a midnight nursing session.
Our little guy has two little bottom teeth and when he smiles and flashes those two pearly whites I just about melt into a puddle. Leland is all about food and it has been so much fun to watch him discovering new tastes and textures. He adores his baths, which is great because this kid has some serious rolls that need scrubbing after his very messy meals. Everything in our house has turned into a song, and we find ourselves humming made up songs about avocados and Leland's toy moose. But somehow we just keep singing no matter how made up and silly the songs get because it makes Leland laugh and we are all about Leland giggles over here.
Each month Leland and I have a little photo shoot on our bed, and it is the sweetest to see how much he has changed over these last 6 months, including that hair- from dark hair to almost a blonde! Oh what a difference a few months can make!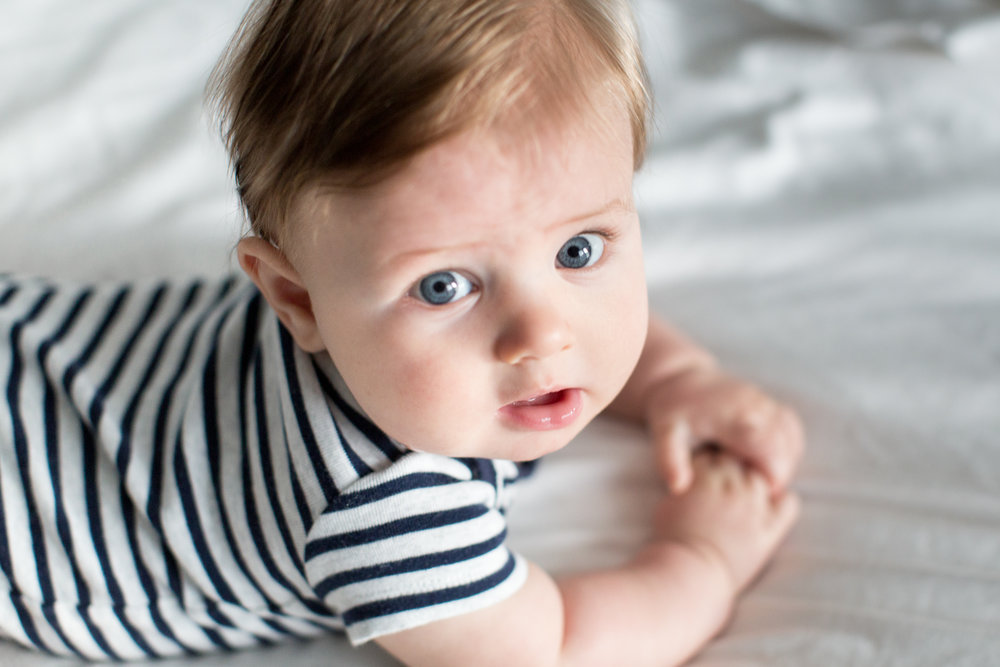 And these are just a few fun pictures from life, because every day is more fun with Leland around. Before Leland we were always on the go (and yes we are still on the go a lot), but now we find ourselves just wanting to stay in and make Leland laugh. Oh sweet boy, you have changed everything for the better!