Our family recently returned home from a road-trip in California and dare I say it was our favorite adventure yet! Lazy mornings spent cuddling together, long hikes and gorgeous beach views- it just doesn't get much better than that!
I am splitting this blog post up into two parts because the amount of pictures is a little overwhelming! The first week of our trip we traveled along the coast of California from San Francisco to Ventura. The second week we visited Kings Canyon, Sequoia and Yosemite National Parks. So this first post is all about our first week along the coast!
I do want to preface this post by saying this type of travel just works for our family. It is most certainly not for every family, so if you are thinking, 'wow these people are crazy', I totally get it! We did camp for 2 weeks in a very small van with a 10 months old, we hiked a lot, changed diapers just about any and everywhere and cooked our meals in parking lots- it is a little wild! But our family loves this type of thing.
We left from DTW and flew to Oakland and then picked up our camper van in San Francisco. We rented a very basic van from Lost Campers, and absolutely loved it. If you want a little more detail on the setup this is the van we rented. In another post I will share all of the things we brought that helped make our trip a success (which means we all got great sleep!)
On our first day we headed from San Francisco to Sunset State Beach in Watsonville. Along the way we stopped at roadside farmer's stands to pick up food (so fun and delicious!) and spent an afternoon exploring lighthouses along the coast and the eclectic downtown of Santa Cruz. We arrived at our campsite just in time to watch the sunset. We settled into our first night in the van extra sleepy from the time change and a long morning of travel.
Our next stop was Big Sur. We spent the day driving along the winding coastline, stopped to visit with a friend in Monterey and ended the day with an awesome hike in Big Sur that took us along the rugged coast. During our hike we took a break at a secluded beach where Leland got his first experience with crawling through the sand. We camped at Pfeifer State Park in Big Sur and had the coolest campsite tucked among the trees.
The next day we were bound for Montana de Oro State Park. We started off with a quick walk to McWay Falls in Julia Pfeifer Burns State Park. We continued the gorgeous drive along the coast, stopping to see some sea lions along the way! I don't have any pictures from it, but the sun actually ended up coming out this afternoon and we spent a few hours napping and relaxing at the beach. We ended the day with another short hike that took us to a little beach where we had a picnic dinner and let Leland crawl around wild in the sand!
From Montana de Oro State Park we headed to Santa Barbara. We took a break from the van while we were in Santa Barbara and stayed at a cute little hotel right downtown. It was nice after a few night in the van to have some space to get organized, clean up and stretch out.
We met up with friends in Santa Barbara and spent our time together enjoying the beach and exploring downtown. Ryan gave Teddy some surf lessons, did some window shopping, ate delicious food, and enjoyed the views from the pier. Highlights of Santa Barabara had to be being able to snap some maternity pictures from Ryan and Michal on the beach, starting our day with delicious coffee at Handlebar Coffee and ending our day with some of the best ice cream I have ever had at McConnell's.


Our last stop along the coast was Point Mugu State Park. All along the coast there are campgrounds where you can sleep right on the beach. Point Mugu was one of those campgrounds, so we fell asleep and woke up with the sound of the waves. The pictures below are our from our campsite- how cool is that! Apparently in central California they have something they call 'June Gloom'. Californians kept apologizing to us for the "June Gloom' weather. I will be honest, I kind of loved it. It meant we were never too hot, I didn't have to worry about too much sun for our little man, and there is something so cozy and beautiful about that fog in the morning and evenings.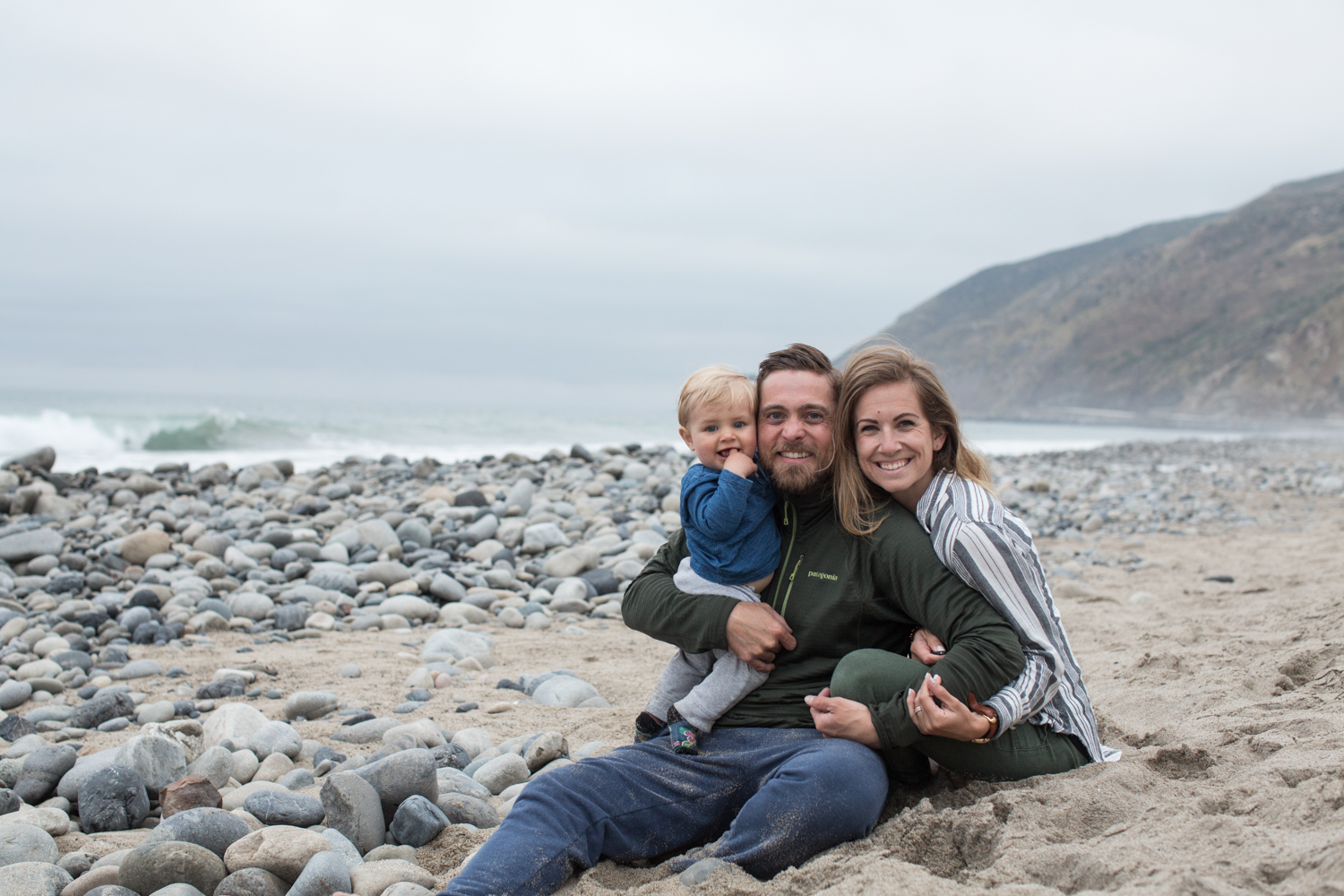 Yay! There you have it- the first part of our trip. Stay posted for part two which will include our time in Seqoia, Kings Canyon and Yosemite National Park!