The second week of our California road trip was spent exploring a few of California's National Parks. We visited Sequoia, Kings Canyon and Yosemite before packing up our bags to head home.
Our first stop was Sequoia National Park. It was so incredibly beautiful. We hiked during the day and in the evenings we strolled through groves of giant sequoias. We hiked Moro Rock right after arriving in the park and it gave us a beautiful view of the entire canyon.
My favorite memories of Sequoia National Park were the evenings, when it has cool and the park had cleared out and we poured ourselves our favorite beverages, packed Leland up in the stroller and wandered through the forest of giants. It was pretty amazing to see General Grant, the largest tree in the world. These groves of giant trees are truly incredible and it is such a sweet reminder of just how small we are in this big, beautiful world.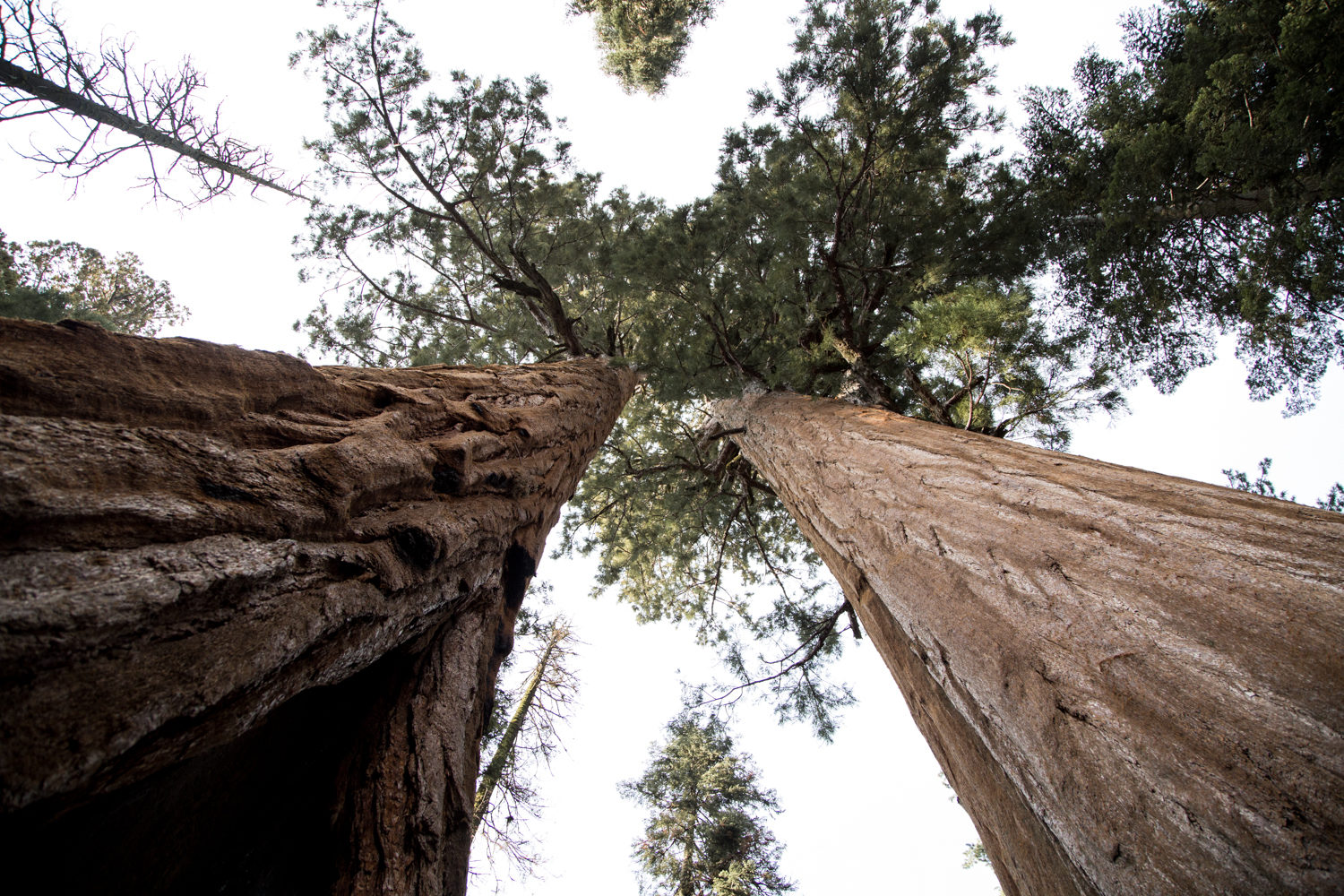 During our stay in Sequoia we took a day to explore Kings Canyon National Park. I wasn't sure what to expect since this park isn't as often visited and widely advertised as some of the other parks in the country, but WOW it was one of my favorite National Parks we have ever visited! We drove Kings Canyon Scenic Byway to the end of the park, stopping along the way to take in stunning views of the canyon and walk to the base of roaring waterfalls.
Our drive ended with one of my favorite views of the trip, along Zumwalt Meadow Trail. The meadow, with the mountains behind it, was such a beautiful site. The trail was actually flooded from the snowmelt, and as we hiked further along the trail people warned us to turn around since we would have to hike through knee deep, icy water to finish the loop. But in true Beatty family style, we persevered and hiked right through the water to finish the loop. It was so cold, but the views were absolutely worth it!
We camped at Stony Creek Campground for our stay at Sequoia and Kings Canyon National Parks. It was the most beautiful spot we camped at. Our campsite was right along the river and really private. Leland loved crawling along the big rocks on the river's edge and finding smaller rocks to throw into the water.
The last stop of our trip, and the one we most anticipated- Yosemite National Park! We booked our campsite in Yosemite the day reservations opened up for the year. The park can get very busy in the summer, so we were excited to be staying right in Yosemite Valley at North Pines Campground. Some of the campground was flooded (do you sense a theme here) so we actually had a very private site with an incredible view of Half Dome.
While we were in Yosemite we hiked, hiked and hiked some more! Ted didn't let carrying around an extra 25 pounds of weight slow him down, and we hiked to the tops of waterfalls, to snow-covered mountains and through giant forests. Some of our favorite hikes included Inspiration Point, Upper Yosemite Falls and the Mist Trail (you get absolutely drenched on this hike from the waterfall so come prepared!)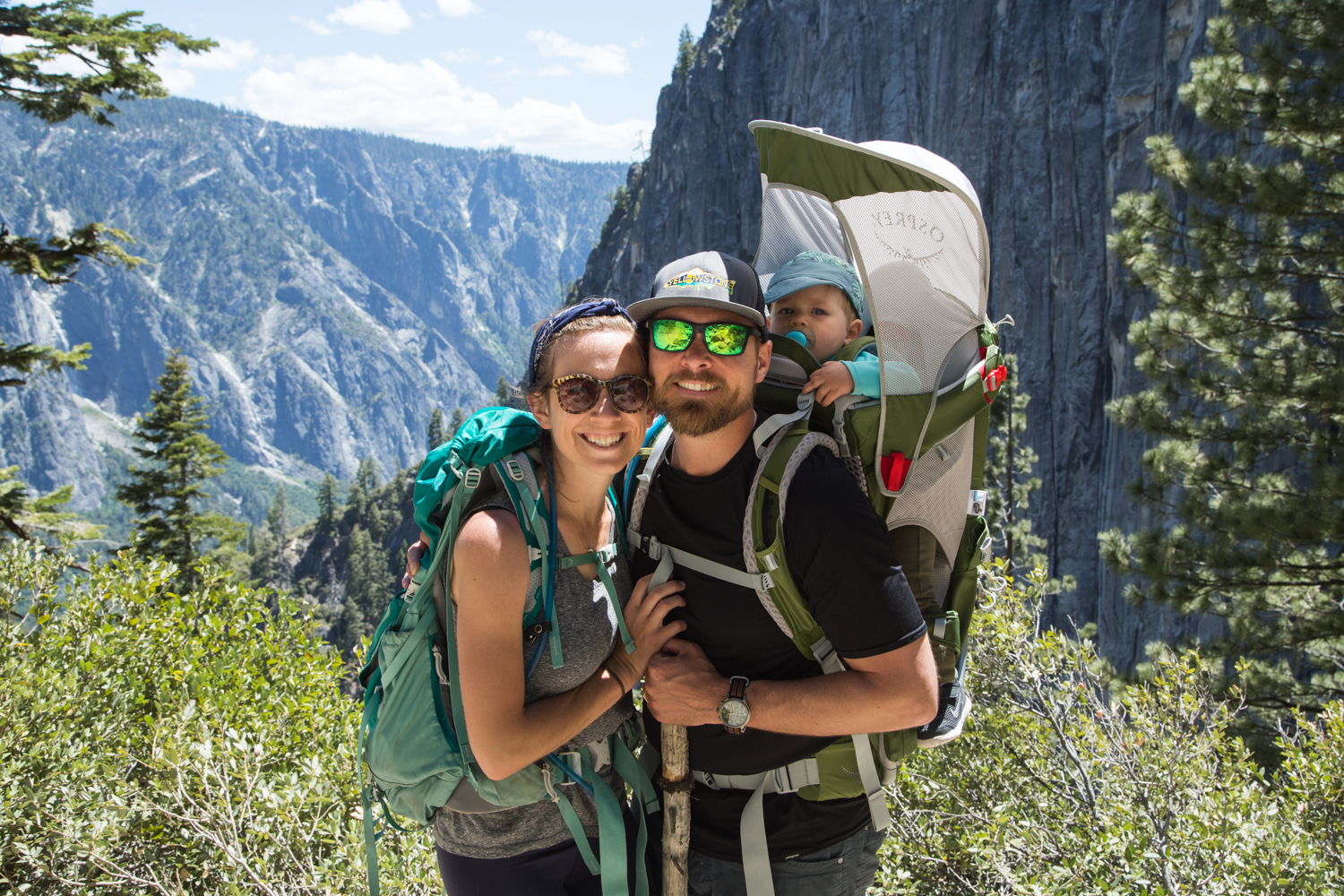 These pictures are from my favorite day of our trip. We drove out to Glacier Point for the day. We did an awesome loop hike that took us to the top of Taft Point and Sentinel Dome. Some of the trail was still covered in snow, so we were happy to hike with another couple to have additional eyes to ensure we actually stayed on the trail that would take us back to our van.
We ended the day with an epic sunset over Yosemite Valley from Glacier Point. We had a picnic dinner and stayed late to watch the stars come out over the valley. It was one of those freeze time evenings and I will forever cherish the memories we have together as a little family right in the middle of God's creation, while it put on an unforgettable display of color and light.
Each day in Yosemite was filled with miles and miles of hiking and slow evenings watching the light change the color of the rocks in the setting sun. During our last night in the park we packed a picnic and laid out a blanket in a meadow to watch the climbers on El Capitan. What an incredible display of knowledge and athleticism! I was amazed listening to other climbers in the valley chat as they watched friends scaling the rock.
Yosemite, you were too good to us. Our legs were so tired by the time our visit came to an end, but it was well worth it for all of the incredible views. I definitely have a new favorite National Park!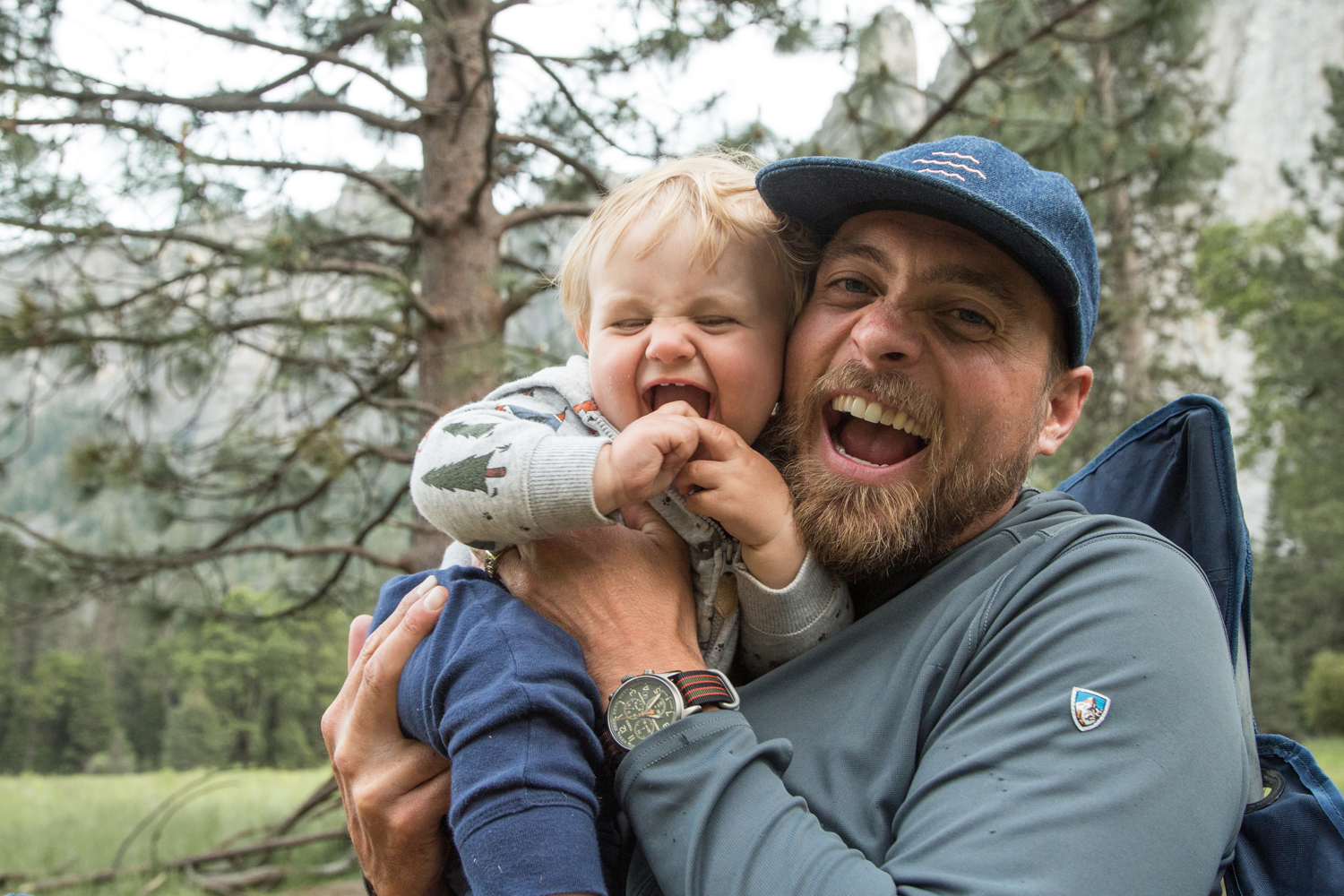 Thanks so much for following along on our adventure! We always dreamed of visiting the National Parks with our little ones, and sometimes I have to pinch myself when I realize we are getting to live that dream.
If you have any questions be sure to let me know, I plan to do one more post about what we have learned when it comes to traveling, camping and packing for a little one on an outdoor adventure!